Planning a future is important. Last year this time I had no idea where in the literal world I would be. I wanted to stay in Colorado, but I knew that the decision for that to happen was mostly out of my control. This year is the first time in two years that actually have some clarity on what the next year will mostly likely look like. I try not to worry about it, after I believe in God and if He can provide for pigeons and these annoying gecko lizards in my bedroom, He can do that and then some for little me.
Here are 12 things that happened to me, through me, accomplished by me in 2018:
I arranged for 130 eighth-grade students to visit a university campus. For some kids who will likely be the first of their families to go to college, early exposure is important. I may not be out there saving lives Greys Anatomy style, but I help kids. I help them with their problems. I help them see that there is so much more to the world beyond what they see in their immediate environment.
During my job hunt earlier in the year, I secured 2 job offers. Having only completed one year of full-time counseling work, it felt great to have those two. During that season I applied to over 30 jobs.I bought myself a proper DLSR camera. I stay ready for when a camera is put in my face but I love being behind the camera and capturing moments and photography is a hobby that I hope to continue to develop in 2019.
Made it to 2 years of being married in a long distance relationship. This year, the distance is being tested even further. This experience is helping me learn a lot more about myself and pushing me to grow in love. Putting in consistent effort takes effort.
I completed a 60-day devotional. Man that was rough and I'm appreciative of my accountability partner that I had throughout it. Bible App is lit though…streaks are a motivation for me, don't judge.
I moved to Southeast Asia. This was big. I wasn't afraid, but when I arrived in Yangon airport, I felt an overwhelming sigh of relief. In the Atlanta airport just before heading to China, I remember looking over at a woman having a bit of a panic attack at the realization that she was moving to China. I calmly told her, "It's okay. I'm moving alone too."
And in the spirit of moving, I had to give away my cat. I miss him. He was my constant companion for 2-years. I'm not on that high-level caucastic my pet is my child type of vibe, but when your closest companion most days is four-legged and furry, you do feel the loss. And now I have plants.
I completed my 2018 Reading Challenge with 11 days left to spare.
I saved over $5,000. Granted, I don't have it anymore, this year showed me that I could do it and will do it again and save even more in 2019. I was able to cover the expenses of moving with ease, along with vacation when my husband visited, veterinary expenses etc…It's a proud moment for oneself when you can cover your needs and wants and not feel stressed about it. I still need to work on being so cheap-minded though.
I started this blog. If you're reading this and know me well, you know that this is not my first rodeo in the blogging world, I just struggle with consistency and inspiration. I've had at least 3 other blogs prior to this, including Baha Life. I've typically just written for me, but if I am to ever move to the point of monetized writing, I'll have to push past that.
I was admitted into the hospital and hand "surgery". I really didn't think they had to go through all that (putting me in a theatre etc…) but it happened. I have an ugly scar, I constantly imagine worse-case scenarios of other knife accidents, but ya know, c'est la vie.
I drove in the states! Folks that know me well also know that I don't like to drive, in The Bahamas, in the States…no where. Granted I have driver's license for both countries, this year was the first time I like really drove. I drove on the highway. Driving causes me to feel extremely anxious (Thanks Final Destination!), but this year I was driving between my two little towns, Gypsum and Eagle. I had to drive to pick my husband up from a bus stop and I had to do some driving during a weekend I babysat. Y'all don't know how I proud I am of doing those things. I still hate driving, and for sure won't be driving here!
I self-cared. I know it's not a verb but I did intentional things to take care of myself. No, I didn't have a bubble bath with wine and grapes but I did enjoy a few massages, manicures, and face masks. And beyond the fun the stuff, I've read books and really been reflecting on trying to be a better human because my default setting is that I'm not wrong and here is why I'm right.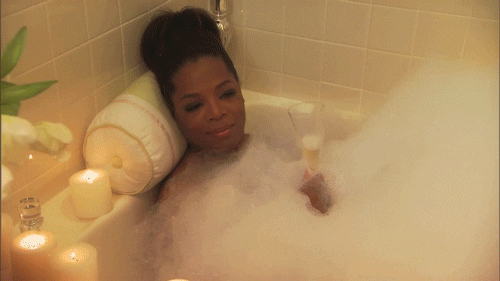 So cheers to 2018. A year of challenge and change. A year of new adventures, good credit and the pursuit of happiness. Let's see what 2019 has in store.
Comment below with a few of your dirty dozen experiences in 2018!