This will be my second Thailand post. Each time I've visited, I've tried to do different things in the limited time I have.
Getting Around
Bangkok is a city, city. Like with skyscrapers, lots of traffic, very developed: think New York City for example. I don't have a lot of travel under my belt so my frame of reference is limited. But it's for sure very metropolitan. If you've never had an opportunity to visit a bustling city, I think it's a cool experience. There's so much energy and movement around you.
In this part of Asia, the version of Uber we use is called Grab and it's great. It can translate between languages on it's own so even the language barrier won't be a huge problem. There are also moped bikes, tuk-tuks, and the Bangkok BTS or Skytrain. What you will not be doing as a tourist is driving in Bangkok. Don't stress yourself with that. It's already enough traffic to keep you at a standstill for over an hour.
Things To Do
You can do as much or as little as you want in a city like this. Because my visits are but a weekend long, I'm trying to squeeze in as much as I can while I'm there. I went back to the Chatauchak Market for some shopping and to have some amazing mango and coconut ice cream. Also, garlic bread on a stick.
I also had some errands to run so dealing with traffic was a pain in the butt trying to get everything that I had to do done and then meet my colleagues I traveled with for dinner and fun stuff.
You can get massages since they're really cheap and in and around every corner. You can visit local markets. There's also water markets, which I'll have to do again. The vendors set up their produce in their long boats. The night markets are like flea markets, with lots of knock-off name brand items. They tried to sell me a Channel watch for $78. Notice I said channel, not Chanel. And near those night markets are adult entertainment clubs.

Whew chilayy! Me and my lil unexposed self was like: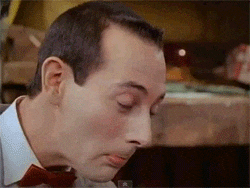 The promoters were like, "Want to see ping pong show?" And I'm looking at my colleagues because I'm not entirely sure what this here show involves but it feels lowkey sleazy. No we did not see any of those shows. They have shows if you're into guys, girls or all in between.
So on to what I care about the most…. FOOD
Last time I visited, we had the "almost experience" of eating at a Michelin star restaurant. This time, I didn't particularly care. A 2-hour wait for food is not worth it in my book. But I had some good food and fun drinks. My least favourite was probably the sticky rice and mango dessert which is a very popular and traditional Thai dessert. Sweet rice just really isn't my thing, not that it tastes bad.
Here are some more photos from this trip.